My Blog
Posts for: May, 2019
By Oral & Maxillofacial Surgery of the Lowcountry
May 18, 2019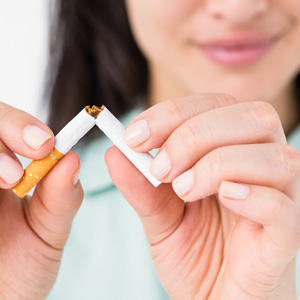 If you're considering a dental implant as a replacement for a lost tooth, you're looking at a restoration method with an amazing 95% success rate after ten years. But that being said there's still a risk, albeit quite low, the implant might fail.
And if you smoke, the risk is slightly higher. In a recent study of implant patients, twice as many of the failures occurred in smokers compared to non-smokers. If you're a smoker, you can increase your chances of a successful outcome if you quit the habit.
Nicotine, a chemical within tobacco, is the primary cause for this higher risk. Besides its effect on the pleasure centers of the brain, nicotine also restricts smaller blood vessels that are abundant in the mouth and skin, causing less blood flow. As a result, the mouth doesn't have as many antibodies and other substances available to fight infection and help traumatized tissues heal.
Because of this, as well as reduced saliva flow due to the habit, smokers have an increased risk of dental disease and are slower to respond to treatment. This can be especially problematic if the gum tissues around an implant become infected, which could lead to a catastrophic failure. Slower healing also impacts the post-surgery period when bone cells in the jaw are growing and adhering to the implant surface, forming a stronger bond.
To avoid these potential risks you should stop smoking before you undergo implant surgery. If you can't completely kick the habit, you should at least stop a week before surgery and for two weeks after. It's also critical that you practice good oral hygiene — both brushing and flossing — to minimize the occurrence of dental disease and see us for regular checkups and maintenance appointments.
Taking these steps will greatly increase your chances of being in the vast majority of people who continue to enjoy success with their implants for many years.
If you would like more information on the impact of smoking on dental health, please contact us or schedule an appointment for a consultation. You can also learn more about this topic by reading the Dear Doctor magazine article "Dental Implants & Smoking."
By Oral & Maxillofacial Surgery of the Lowcountry
May 08, 2019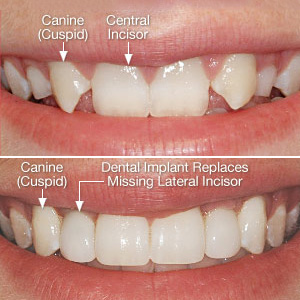 When you look at the top row of a normal smile, you'll see symmetrical pairs: the central incisors in the middle, flanked by the lateral incisors and the canine (or eye) teeth on the outside of them.
Sometimes, though, teeth may not form as they should: in fact, it's one of the more common congenital defects with one in five people having missing or deformed teeth, often the upper lateral incisors. In the latter case, it's not uncommon for the eye teeth to drift into the missing lateral incisors' spaces next to the central incisors. This creates a smile even a layperson can tell is off.
There is a way to treat this with orthodontics and cosmetic dentistry that will transform that person's smile while restoring better mouth function too. It's often a long process, however, that's best begun early and must be precisely timed with dental development.
Using braces, we move the drifted teeth back to their proper positions, which will make room for a future dental restoration. It's usually best to begin this treatment during late childhood or early adolescence. The next step is to fill the newly-created space with prosthetic (false) teeth.
Dental implants are an ideal choice since they're durable and life-like, and won't require permanent alteration of adjacent teeth. They do, however, require a certain amount of bone volume at the site to support them; if the volume is insufficient we may have to place a bone graft to stimulate new growth.
It's also best not to install implants until the jaw has finished development, usually in the late teens or early adulthood. In the interim between tooth repositioning and implants we can customize a retainer or other removable appliance with a false tooth to occupy the space. This not only enhances the smile, it also prevents the repositioned teeth from drifting back.
These steps toward achieving a new smile take time and sometimes a team of specialists. But all the effort will be rewarded, as a person born without teeth can have a new smile and improved oral health.
If you would like more information on treating dental development deficiencies, please contact us or schedule an appointment for a consultation. You can also learn more about this topic by reading the Dear Doctor magazine article "When Permanent Teeth Don't Grow."