My Blog
Posts for tag: smoking
By Oral & Maxillofacial Surgery of the Lowcountry
May 22, 2018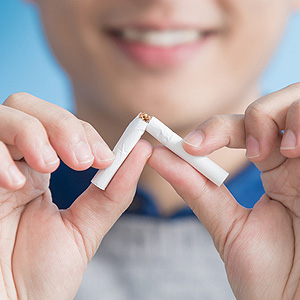 If you smoke, you know better than anyone how a hard a habit it is to kick. If you want to quit, it helps to have a motivating reason—like lowering your risk for cancer, cardiovascular disease or similar conditions.
Here's another reason for quitting tobacco: it could be making your teeth and gums less healthy. And, if you're facing a restoration like dental implants, smoking can make that process harder or even increase the risk of failure.
So, to give your willpower some needed pep talk material, here are 3 reasons why smoking doesn't mix with dental implants.
Inhaled smoke damages mouth tissues. Though you may not realize it, the smoke from your cigarette or cigar is hot enough to burn the top layer of skin cells in your mouth, which then thickens them. This could affect your salivary glands causing them to produce less saliva, which in turn could set off a chain of events that increases your risk of tooth decay or periodontal (gum) disease. The end result might be bone loss, which could make installing dental implants difficult if not impossible.
Nicotine restricts healthy blood flow. Nicotine, the chemical tobacco users crave, can restrict blood flow in the tiny vessels that course through the mouth membranes and gums. With less blood flow, these tissues may not receive enough antibodies to fight infection and fully facilitate healing, which could interfere with the integration of bone and implants that create their durable hold. Slower healing, as well as the increased chances of infection, could interrupt this integration process.
Smoking contributes to other diseases that impact oral health. Smoking's direct effect on the mouth isn't the only impact it could have on your oral health. As is well known, tobacco use can increase the risk of systemic conditions like cardiovascular and lung disease, and cancer. These conditions may also trigger inflammation—and a number of studies are showing this triggered inflammatory response could also affect your body's ability to fight bacterial infections in the mouth. Less healthy teeth, gums and underlying bone work against your chances of long-term success with implants.
If you would like more information on dental implants, please contact us or schedule an appointment for a consultation. You can also learn more about this topic by reading the Dear Doctor magazine article "Dental Implants & Smoking: What are the Risks?"
By Oral & Maxillofacial Surgery of the Lowcountry
June 17, 2016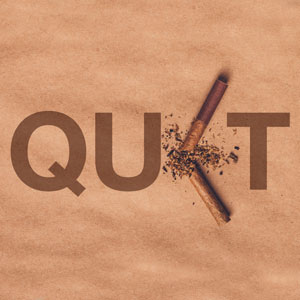 While cigarette smoking has been linked with lung cancer and heart disease, it, can also contribute to dental disease. You can reduce these risks by doing one thing — quitting smoking.
But that's easier said than done: forty-six percent of smokers try to quit every year, but only one in ten are successful long term. The difficulty is tied to tobacco's active ingredient, nicotine, an addictive substance that triggers chemical and behavioral dependence. Nicotine "re-wires" the brain to feel pleasure when it encounters the chemical, and to feel bad when it's deprived. Social, occupational or recreational activities can further reinforce the habit.
Many smokers try to quit through sheer willpower or "cold turkey." Because of nicotine's addictive properties, this rarely works — instead, you need a comprehensive strategy tailored to you.
You should begin first with trying to understand your individual smoking patterns: when do you smoke, how frequently, or during what activities? To help with this you can use a "wrap sheet", a piece of paper you keep wrapped around your cigarette pack. Each time you take out a cigarette, you would record how you feel on the sheet. This also slows down the action of taking out a cigarette and lighting it, which can help you become less mechanical and more mindful of your habit.
You can also break your dependence by gradually introducing restrictions to your smoking: smoke only in certain locations or at certain times; substitute other stress-relieving activities like a walk or other physical exercise; or gradually reduce the number of cigarettes you smoke. You can do the latter by setting a goal, say to smoke 20% fewer cigarettes each successive week; this will force you to increasingly make choices about when you smoke.
Finally, don't try to go it alone. You can benefit greatly from professionals, including your dentist, to help you kick the habit through Nicotine Replacement Therapy (NTR) with prescription medication, counseling or smoking cessation support groups.
Quitting smoking isn't so much stopping a behavior as it is "unlearning" one and establishing new, healthier ones. The first step, though, is accepting you need a change, one that will benefit your whole life.
If you would like more information on quitting smoking, please contact us or schedule an appointment for a consultation. You can also learn more about this topic by reading the Dear Doctor magazine article "Strategies to Stop Smoking."