If you have suffered bone loss in the jaw, bone grafts can strengthen your jawbone and prevent further deterioration.
Dr. Matt Dillard in Charleston and Walterboro, SC, is the oral and maxillofacial surgeon many dentists turn to for complex grafting.
Learn how Oral & Implant Surgery of the Lowcountry uses bone grafting to overcome bone loss and preserve oral health.
In the field of dentistry, bone grafting is a technique that helps patients restore lost bone in the jaw. Grafts can prevent tooth loss, create a solid foundation for dental implants, or rebuild a jawbone worn down by dentures.
Dr. Dillard at Oral & Implant Surgery of the Lowcountry uses graft material to create a scaffold that allows new bone to grow and eventually replace the graft.
While the word "grafting" sounds intimidating, Dr. Dillard takes care to make the treatment comfortable as well as effective. Using the latest technology, such as cone beam scanners, he can assess the density of your jawbone and identify nearby structures, such as the sinuses, to ensure the treatment achieves the desired results.
Do You Need a Bone Graft?
Schedule a Consultation
Bone grafts help prevent long-term health problems caused by bone loss in the jaw. Adding bone mass to the jaw can also help you qualify for dental implants, the only tooth restoration that features an artificial tooth root that encourages long-term bone growth in the jaw.
Dr. Dillard at Oral & Implant Surgery of the Lowcountry uses a 3D cone beam CT scanner to assess bone density in your mouth and plan your procedure. These advanced tools allow him to ensure your oral surgery is both safe and effective. Dr. Dillard also has advanced training in anesthesia techniques so that you remain comfortable throughout the procedure.
If you need a bone graft, give us a call or request a consultation online:
Offices in Charleston and Walterboro, SC
5-Star Reviews of Our Practice
Dr. Dillard and staff are really great! I have had headaches that caused more discomfort than this tooth extraction. I needed a baby tooth that was fused to the bone jawbone removed for a dental implant. I have had no bruising, discomfort or complications. I recommend Dr. Dillard to anyone who needs major or extensive dental surgery.
View On Google
THANK YOU DR DILLARD!! I had wisdom teeth removal and the experience with him and his staff was awesome!! They made me comfortable and I felt well taken care of!! I had to revisit the office today as a follow up. Again the service was consistently at a level of excellence! HIS ASSISTANT was amazing as well and I am appreciative!!
View On Google
Rebuild Missing Bone for Dental Implants
Looking to Qualify for Dental Implants?
Bone Grafting Offers a Solution
Dental implants are dentistry's preferred method to replace missing teeth. Implants are small posts that are surgically placed in the jawbone and are used to support a variety of restorations, from a single tooth to full dentures. In addition to securely holding a restoration in place, they also fulfill the role of a tooth root by encouraging regenerative bone growth.
Unfortunately, people may not qualify for implants if their jawbone has deteriorated. Fortunately, our practices in Charleston and Walterboro offer bone grafts and give patients a second chance for a secure, natural-looking smile.
Grafting will add time to an implant procedure since it takes several months for a graft to add bone mass to the jaw. However, patients consider the long-term benefits well worth the wait.
Socket Preservation
Socket preservation is a preventative measure used when a tooth is extracted. Immediately after extraction, bone grafting material will be placed in the socket to encourage new bone growth and prevent the sides of the socket from caving in.
Ridge Augmentation
The jawbone can become thinner in people who have been missing teeth for a long time. A ridge augmentation increases the width and volume of the jawbone. It is often used to provide a stable footing for dental implants.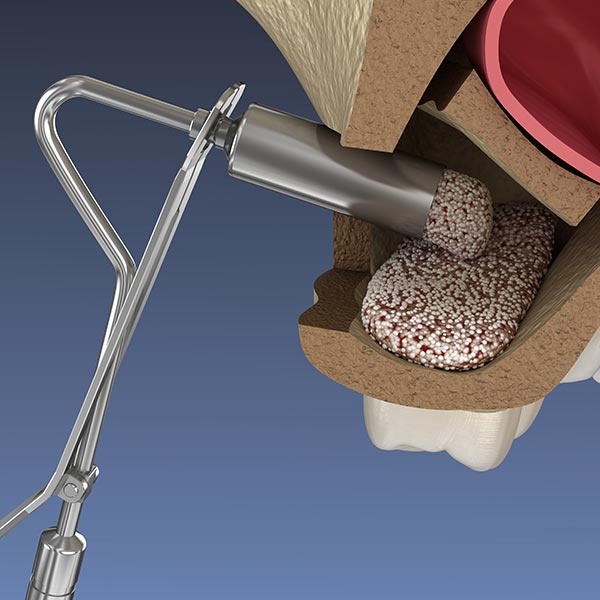 Sinus Lift
When upper back teeth are lost, the sinuses can drop down into the now vacant space. With a sinus lift, Dr. Dillard carefully lifts the sinuses and places a bone graft underneath, creating a solid foundation for a dental implant later.
Periodontal Bone Graft
If gum disease has loosened a tooth and you risk losing it, a periodontal bone graft will be placed around it. This step reduces movement and provides support while encouraging new bone growth for long-term support of the tooth.
What Are Dental Grafts Made From?
Human Bone
Grafts can come from your own body or a donor cadaver. Grafts taken from a donor are sterilized and can be safely used without risking your health.
Animal Bone
Bone grafts can also be created using sterilized animal bone. This type of graft is called a xenograft and can be made using a cow, pig, or even coral.
Synthetic Material
Alloplasts are grafts made from synthetic material. Like traditional grafts, alloplasts create a scaffold that allows natural bone to grow and replace it.
Dental Graft Treatment Timeline
Dr. Dillard has advanced training in sedation.
Find Out Why Our Patients Love Us
Professional staff, very friendly and informative. Dr Dillard is very competent and involved in the healing process and my comfort. Not looking forward to implant surgery but wouldn't go anywhere else.
View On Google
Dillard and all staff are personable and professional. Doc even called to check on me after implants. Highly recommend.
View On Google